Immersed by unspoiled nature.
The dry-stone walls, the typical stone and materials of the area, the sobriety and elegance of the furnishings and the beautiful setting of the outdoor spaces rich in vegetation, evoke the magical atmosphere of an ancient Mediterranean residence.
Services and Experiences
Your stay at the Tenuta Centoporte Resort Hotel is complimented by our services, dedicated to enriching every detail of your stay. The swimming pool with bar, the wellness area and our leisure services are second to none, providing you with an unrivalled sense of relaxation and joy. Free wi-fi internet service is available in all rooms and throughout the hotel.
Breakfast
Entertainment and Events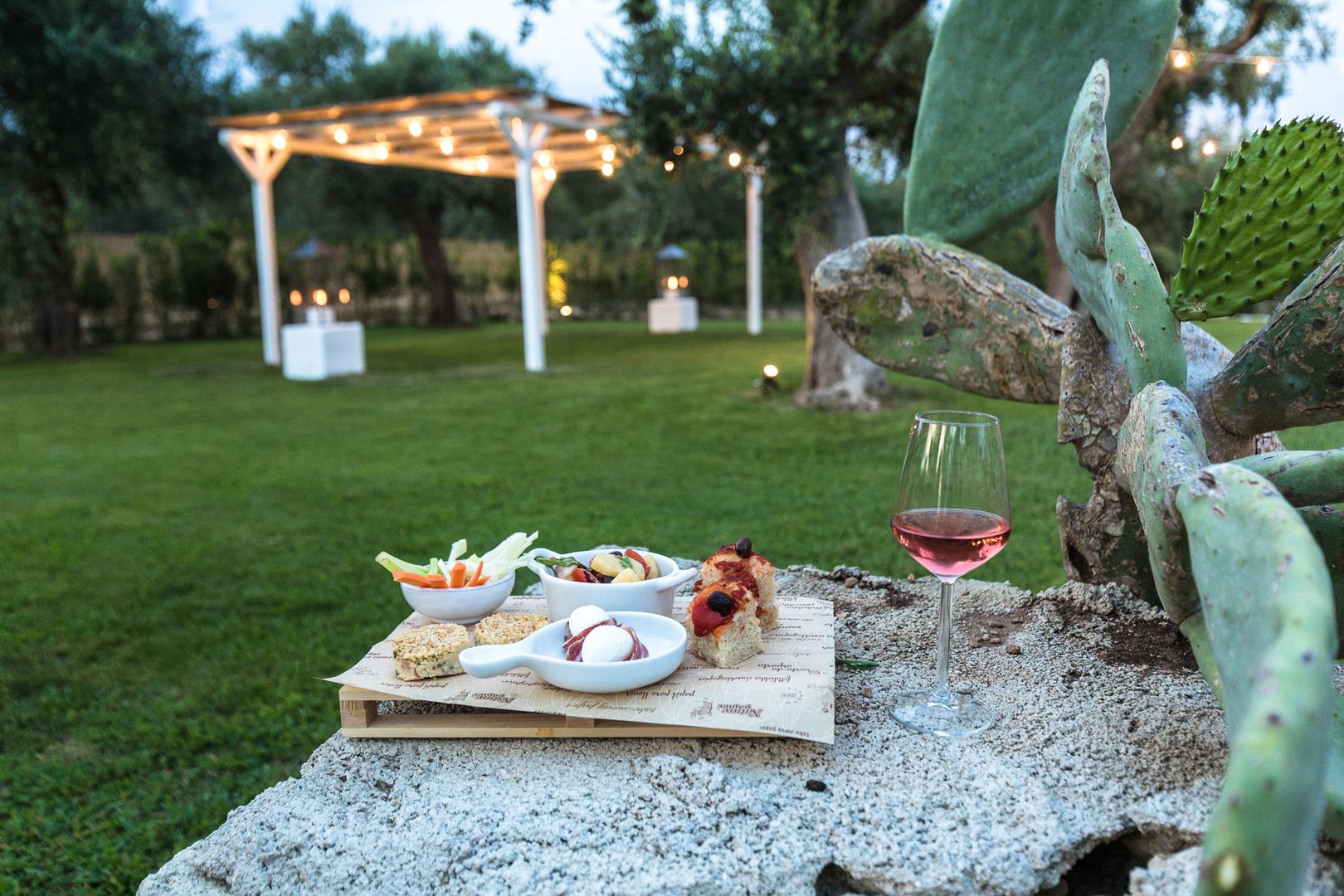 Tastes and traditions
The Reserve
Music therapy
Private Spa
Rooms & Suites
Every room and suite is unique, furnished with sobriety and elegance and with furnishings and accessories that evoke the magical atmosphere of ancient Mediterranean residences - the essence of the Tenuta Centoporte Resort.
Located on the ground floor, comfort rooms have French doors with direct access from the garden. Refined double rooms, embellishe
Located on the first floor, they have an independent entrance and face out onto a balcony overlooking the Lecce countryside. The
Superior rooms, located on the first floor, have an independent entrance with exit to a private terrace and garden view. The bath
Superior Deluxe rooms are located on the ground floor, have an independent entrance garden view. The bathroom with window has a l
CRooms with two areas; a living area and bedroom, bathroom and double balcony with garden view.
Elegant space located on the ground floor divided into two rooms. Bedroom and living area (or second bedroom). Equipped with two
Refined and elegant suite, finely furnished and equipped with every comfort, consisting of two bedrooms, two bathrooms and a larg
La Reserve, furnished in a classic but equally refined style, is fully equipped with all comforts. Adjacent to the central body o
A tour of the Tenuta
The perfect setting for experiencing unforgettable moments in perfectly-kept environments that make for a special stay. The Centoporte Abbey, from which the resort takes its name, is intimately linked to the history of the Hydruntine monastery of San Nicola de Casulis, an important centre of Italo-Greek culture, known for its important library, one of the richest in Europe.
Latest Events & Offers
Tenuta Centoporte is also the ideal place to celebrate important events and ceremonies.
No posts were found for provided query parameters.